von Babett Wollin, 10.04.2023
Would you like to know what it is like to work with me? Would you like to find out what awaits you in my RTT™ one month program, what my values and working principles are? Then you will find all the answers in this blog.
WHAT VALUES AND PRINCIPLES SHAPE MY WORK?
Authenticity – I am authentic and of course I invite you to be the same or if that is still difficult to discover and strengthen your own authenticity in the course of our work together.
Honesty – It is very important to me that I meet you with honesty because this is the only way we can start a real transformation.
Empathy – We connect and I meet you where you are right now with the problems and challenges that your current situation entails. I do not judge.
Doing – I truly believe that for every change we need to start doing. Therefore, doing and becoming active after the process of deep understanding, is a very important part of my programs.
WHAT DO I CONSIDER AS PARTICULARLY IMPORTANT IN MY WORK?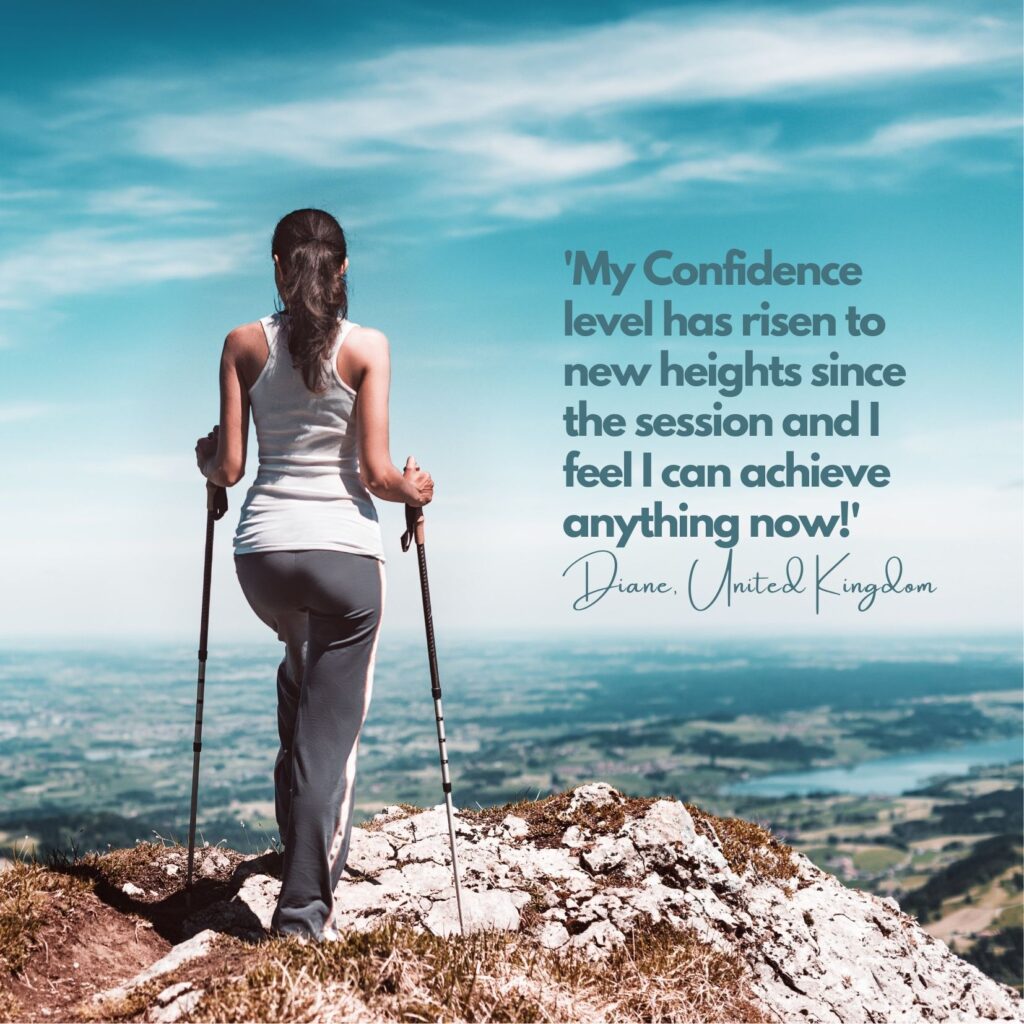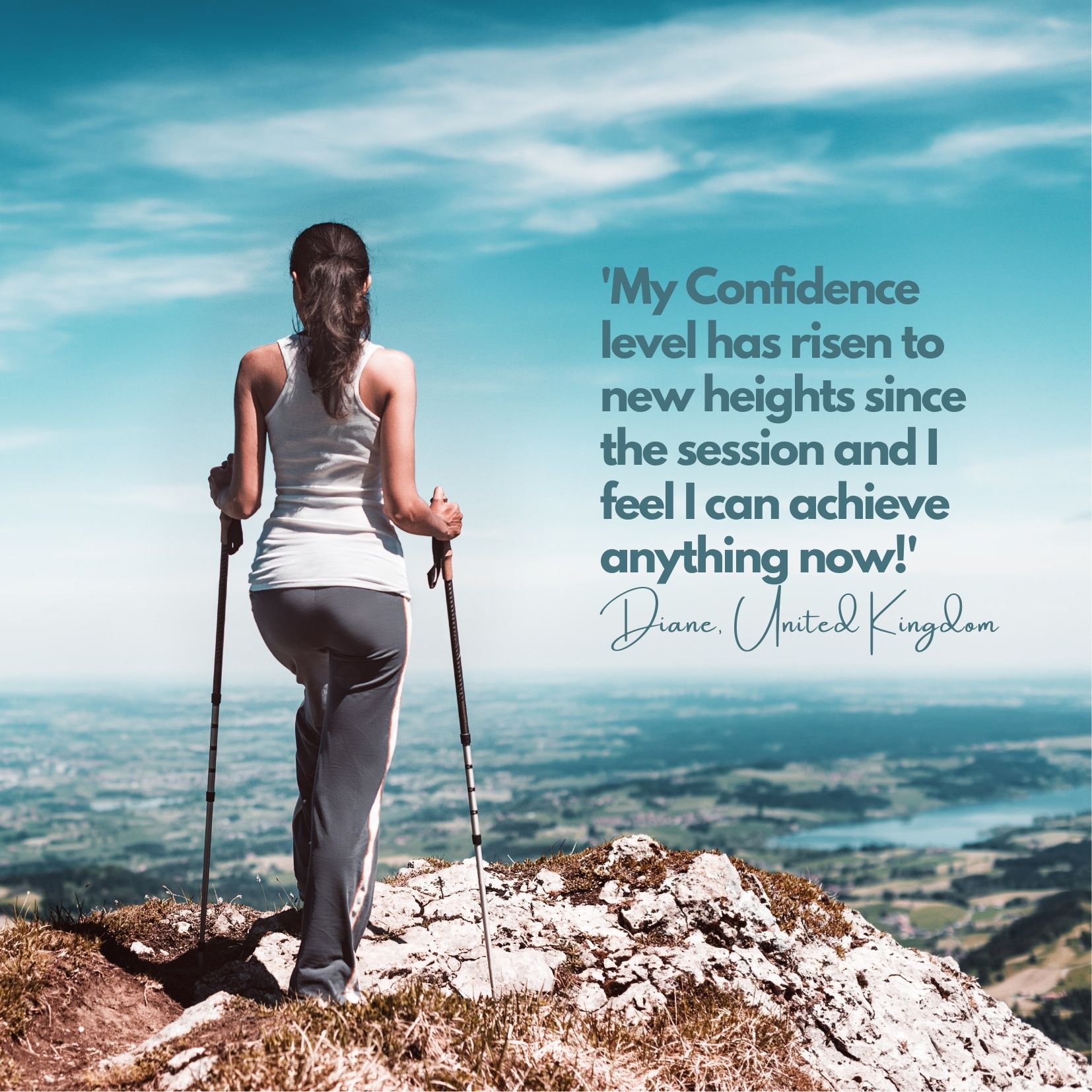 My primarily concern is YOU and what you really want to achieve with the help of my RTT™ program. This question is central to the preparation of our RTT™ therapy. It is particularly important because every person is different. There is no off-the-shelf solution that fits everyone. Everyone has their own wishes, their dreams and plans that need to be considered in the transformation process. It is not about what I think is desirable for you, but about what you want for your life.
WHICH RESULTS DO I WANT TO ACHIEVE WITH YOU IN MY RTT PROGRAMS?
Together with you I want to reveal and eliminate subconscious beliefs that hold you back and thus help you with a transformation that will bring profound positive changes into your life. I want to help you feel like you have never felt before. I want to help you to be authentically you. On the one hand, this includes a transformation specifically in the area that you want to address with the RTT™ therapy, such as: self-confidence, procrastination, stress, addictions or anxiety disorders. On the other hand, I would like to initiate positive transformations during our coaching process. These can be even in different areas than the original issue, often also of a physical nature. This is possible because the RTT™ therapy takes a holistic approach and automatically leads to positive changes in many areas of your life.
It may surprise you that the RTT™ therapy can offer help a variety of problems. The wide range of applications of the method is possible because RTT™ works directly with the subconscious mind and gets straight to the root of the problem. The nature of the problem is not important because the subconscious does not differentiate between the different issues. And here lies the great strength of the RTT™ method. With its different approaches, it really gets to the bottom of the individual problem and resolves it.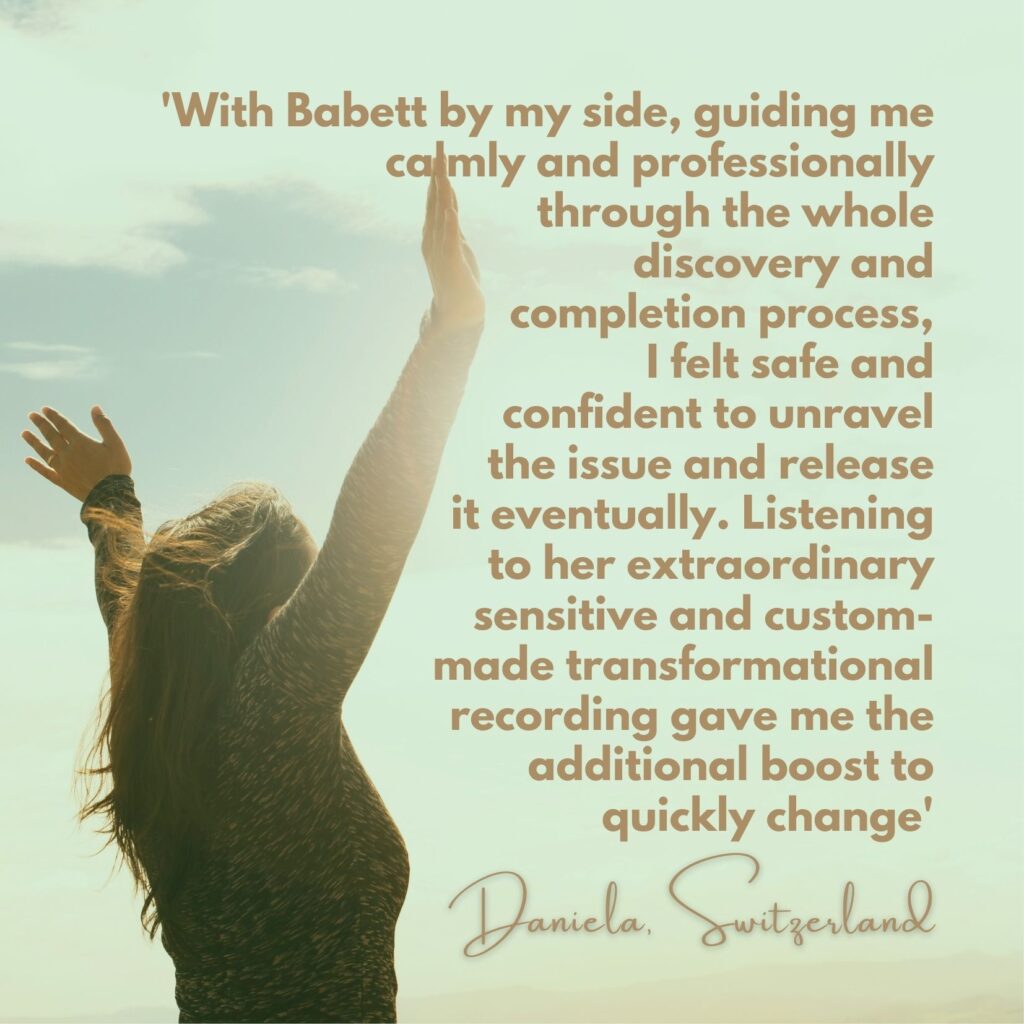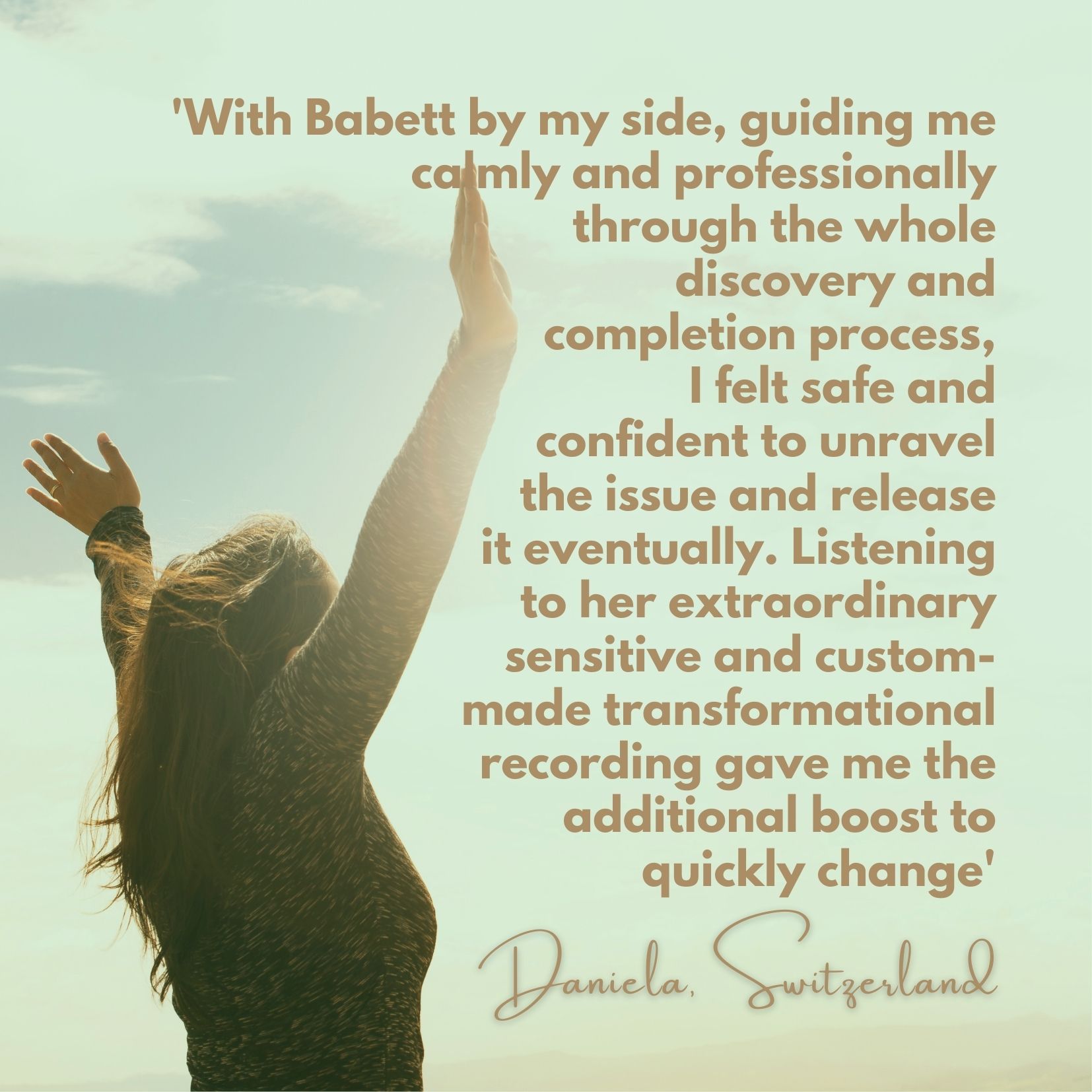 The great thing is also that you are actively involved in the whole process. It is not about me giving you therapy with some positive affirmations, it is about the two of us doing real detective work together and that leads down a path to liberation. It allows you to go onto new paths, your own paths, not the same old beliefs over and over, that were not even your own, but your parents' beliefs.
WHICH METHODS AND PRACTICES DO I DISAPPROVE OF?
I do not work with people who are not committed to their own transformation, so asking about my clients' motivation is often one of the first questions I ask. Unfortunately, there are many people who see hypnotherapy as a silver bullet in which they can be completely passive. This is not the case. It is true that the RTT™ therapy is a very powerful therapy method that delivers fast and lasting results. However, it cannot bring about change unless you also want it and actively participate in it. I am 100% committed to your transformation, but you have to realize that it takes yourself first and foremost. I can show you a way, provide powerful tools and impulses, but you have to walk the path. You have to use the tools and follow the impulses. I cannot do this for you.
HOW DO PREVIOUS CUSTOMERS DESCRIBE THEIR EXPERIENCE WORKING WITH ME?
Here I share some reviews from my wonderful clients about their experiences working with me:
'5 stars
This year I decided I did not want to live with the anxiety I was creating and that was holding me back from fully enjoying life. My session with Babett, the recording and most importantly the support before and after she offered, helped me understand where the source of my struggles was coming from and what to let go. With a new perspective and a continued belief that life brings good things, I have had my most successful year at work and feel I can give my anxiety a reality check rather than let it control me.' (Kate, Spain)
'Life changing! For as long as I can remember, I've felt uncomfortable with my weight, sometimes more, sometimes less. All the efforts of the last few years led to a constant yo-yo effect and ultimately to enormous excess weight. The therapy with Babett hit like a bomb. From one day to the next, so many things have changed for the better: a relaxed, natural way of dealing with food, no more self-doubt, relaxation and ease in dealing with my body, more energy and plenty of room for new things. The effect is lasting and feels very natural. I am losing weight on the side without concentrating on it and I am very much looking forward to the future with my new self. Truly life changing! Thank you Babett!' (Martin, Germany)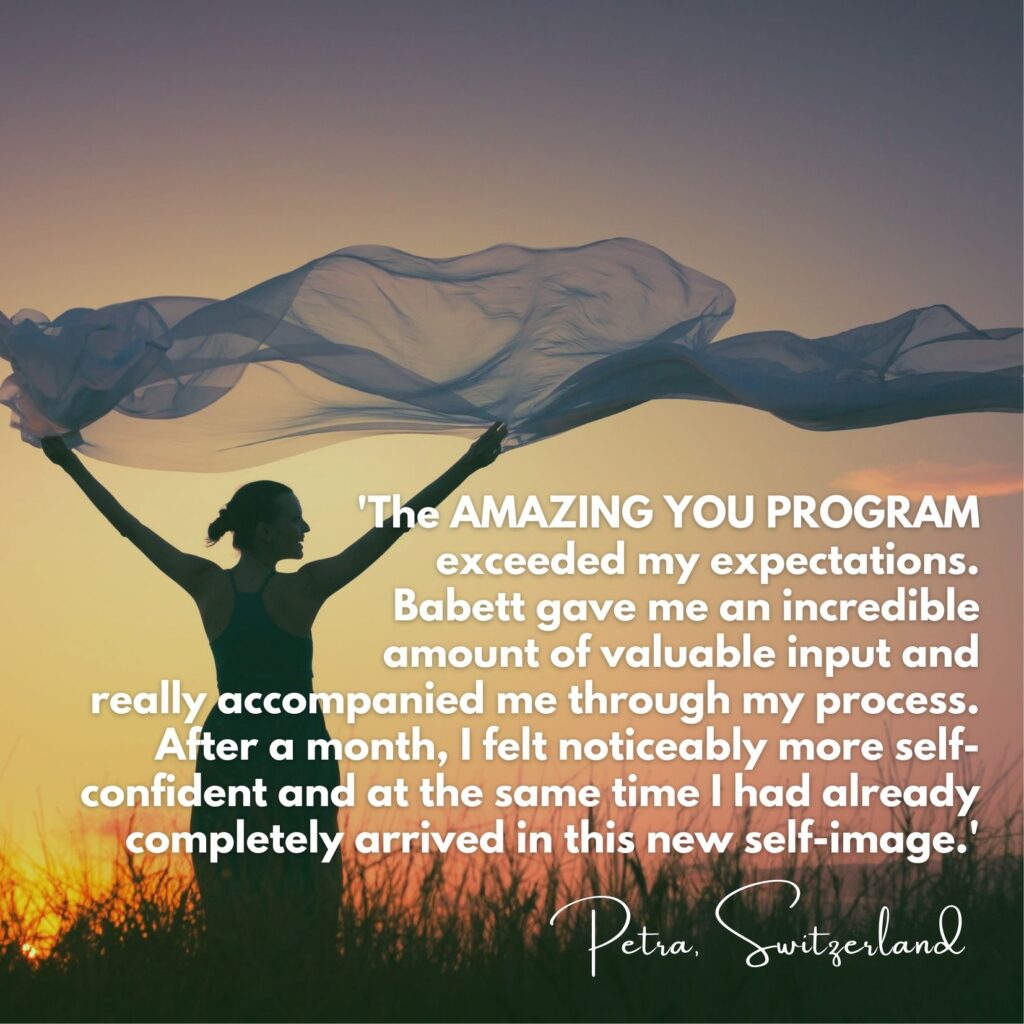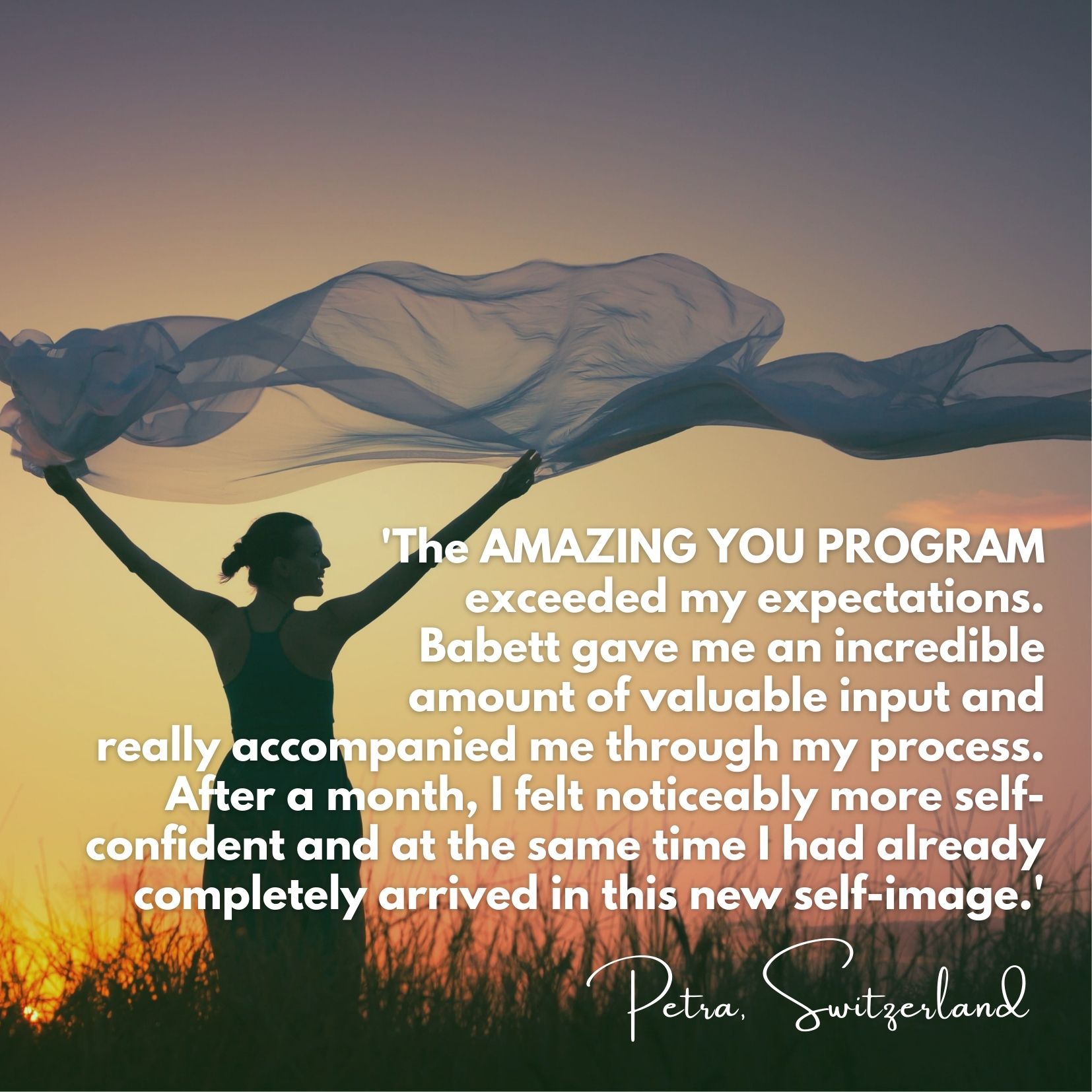 'I have been learning about self-love and self-care for a long time and although my analytical mind understood everything, I did not manage to grasp it on the emotional level. I stumbled upon RTT by accident and found Babett's website. I went into the session with little expectation but high hopes and it was worth it. Not immediately after the session, but in the weeks that followed I felt better and better, gained more confidence and felt joy about being myself! RTT is incredibly healing and Babett is a wonderful and compassionate therapist. Thank you very much dear Babett.' (Vanessa, Germany)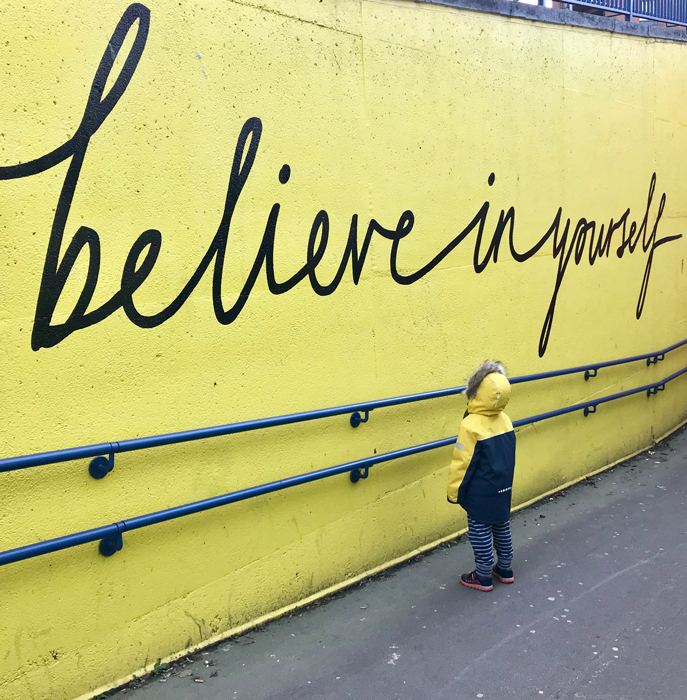 'I have always had trouble loving myself and accepting myself for who I am. I have always wanted to please everyone and have always put myself last… It got me into a narcissistic relationship which made things worse. I was at the lowest point in my life. I knew I had to get out of the relationship and start working on myself… but how? Then I found Babett and it was the best thing that ever happened to me. It has been 2 months since the breakup now and I feel better than ever in my life thanks to the RTT therapy! Through RTT I have learned that I am the most important person in my life and it feels so good. I now see many things differently and very clearly. I am infinitely happy and grateful that I did the RTT Therapy and that Babett helped me through this time.' (Vanessa, Germany)
HOW DO I DEAL WITH DIFFICULT SITUATIONS IN THE CLIENT RELATIONSHIP?
There are actually no difficult customer relationships because we discuss the concepts and basics of our cooperation in advance during a non-committal consultation call. If these do not sound right to you or do not resonate with you, a collaboration will usually not happen.
HOW DOES THE COLLABORATION WITH YOU EXACTLY WORK?
Each client books a free and non-binding discovery call with me, in which we find out together whether my RTT™ monthly program is the right tool to help you with your issue.
Once you have decided for one of my programs we will have a 60 minute-consultation call to get to know each other and to discuss your desired outcome. Furthermore, we will make sure the therapy is tailored to your needs.
Then you have your RTT™ therapy, which lasts between 2 and 2.5 hours (depending on the problem). The session includes a hypnosis and usually regressions, with the help of which we go straight back to the subconscious causes of your issue. My RTT™ sessions are in person at my practice in Palma de Mallorca / Spain or online via Zoom, which is equally effective.
After the session you will receive your personal recording as a digital copy on your mobile phone or via email. This recording will be made especially for you, tailored to your needs. You will need to listen to your recording daily for at least 21 days (as this is the time the brain needs to reframe neural pathways). However, many of my clients listen to it for longer, because they notice the positive and transformative effects way beyond the 21 days. The recording is a critical part of the program. Whilst the actual RTT™ therapy session amounts to about 60% of the success, and most will notice an immediate effect after the session, the recording amounts to 40%. Therefore, it is important to listen to your recording daily.
After the RTT™ therapy session our e-coaching begins. I will contact you weekly throughout the month after your RTT™ therapy via email (or longer, if you wish) and discuss your updates with you. In addition, I will send you individual tips, suggestions and exercises to optimally and individually support you during the entire transformation process. At the end of the program, we have a 30-minute phone or Zoom evaluation call.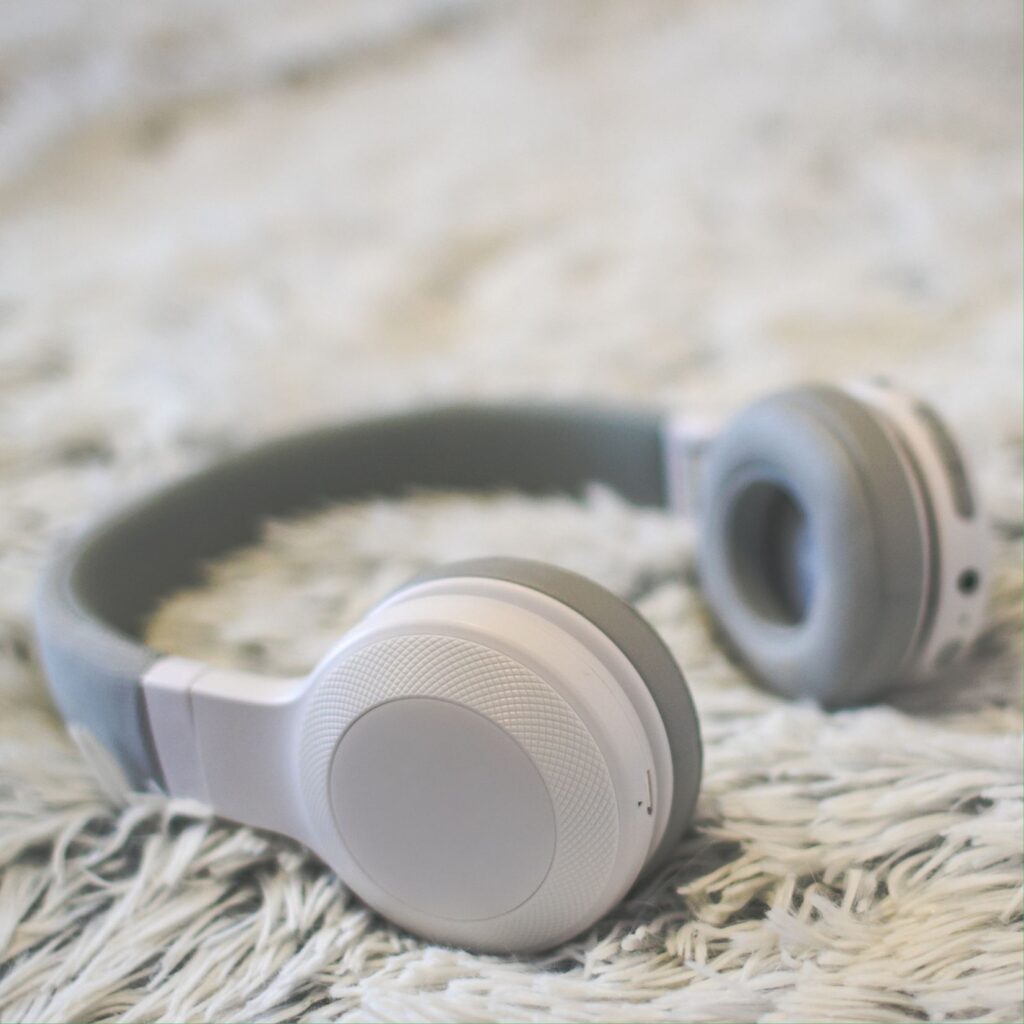 RTT™ is a particularly powerful and transformative form of therapy that delivers quick results for a range of issues. Therefore, one RTT™ therapy session is usually sufficient. In the case of more complex problems, an additional therapy session (max. 3) may be necessary.
If what you have read made you curious I would like to invite you to book a free Discovery call with me, using the below link. I am looking forward speaking with you.